The Walking Trail integrates wellness, exercise, and preventative care into the lives of people in our community. It encourages fitness as a preventative approach to medical care and as an important aid in the recuperative process. The Liberty Hospital Foundation is pleased to offer this unique place for patients, employees, and visitors to walk.
Come enjoy the Walking Trail and see the beauty of the grounds. Whether you are out for a leisurely stroll or on an exercise regime, the trail is for you. The wide paved trail was designed to easily accommodate wheelchairs, and is approximately a 1 mile loop for those tracking their distance.
Liberty Hospital Foundation would be pleased to help you honor or memorialize your loved ones through a Walking trail memorial. Feel free to contact the office with any questions you may have.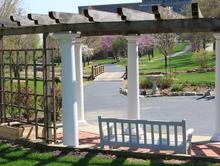 Arbor Trailhead
At the northernmost end of the trail, a beautiful garden arbor is established amid flowering trees and perennial flowers. The commemorative path underneath features bricks inscribed in honor or memory of loved ones.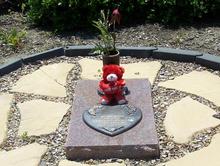 Infant Memorial
The infant memorial is located near a grove of trees that provide quiet and solitude. This area can be used by parents and family members as a memorial, and the hospital chaplain can accompany a family there if desired.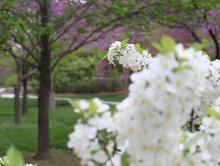 Trail Paths
The trail begins at the TreeHouse, travels down the path to the arbor and continues past the Marjolein Bastin Garden behind the TreeHouse over to the Infant Memorial. Benches line the trail for rest and relaxation.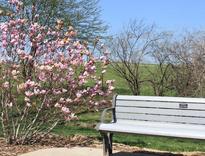 Planting a Tree
The Walking Trail features many beautiful varieties of flowers and trees. Those trees with bronze plaques near their trunks have been planted as an honorary or memorial tree.