Cody and Morgan decided to try for a baby around their one year wedding anniversary.  Together for 8 years, they were so excited to grow their little family.  They found out the good news that they were pregnant in August of 2021.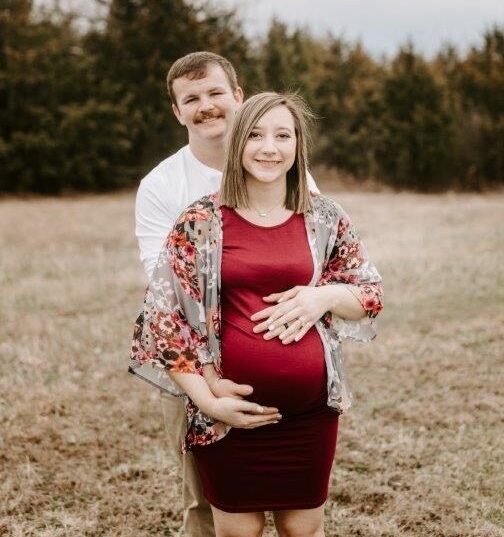 As most expecting Moms do, Morgan immediately became obsessed with everything pregnancy and baby-related. Cody was on cloud nine when they found out that they would soon welcome baby boy, Bryson James, to their family.  Morgan was high risk due to a previous health condition so she received additional ultrasounds and testing throughout her pregnancy.  Baby Bryson was growing and developing perfectly! He was a very busy baby in Morgan's belly, and made his presence known constantly.
Cody and Morgan had just had their maternity pictures taken and created the perfect woodland nursery, complete with a mountain mural on the wall. They were eagerly counting down the weeks until baby Bryson arrived.  When Morgan turned 33 weeks, everything changed. She noticed he was not moving like normal, and where his little feet were always in her right rib, there was just a ticking feeling coming from his foot.
They immediately went to Liberty Hospital to get him checked out. Bryson and mom-to-be Morgan were monitored through the night and then transferred to Saint Luke's Hospital for an emergency C-section. Cody and Morgan's baby boy was placed on a ventilator due to not breathing enough on his own.  Many tests followed immediately after. All tests shown that Bryson likely had a seizure in the womb.  Baby Bryson stayed with Cody and Morgan at Children's Mercy for two days before they had to say goodbye, due to no brain recovery.  All of the tests on all of his systems came back normal, the Doctors still do not know why this happened. When you ask Cody and Morgan about Baby Bryson they say, "He was just to perfect for this world".
What makes Cody and Morgan passionate about supporting Kyleigh's Gift is the bereavement support the program provides. While Bryson's family received their resources at Children's Mercy, they know how pivotal and impactful it was for them, and they want it to be available for all families that have to face such a devastating loss. From the keepsakes made, the resources provided, and the ability to spend the most amount of time possible with your baby, these moments can mean the world to families facing infant loss.
"Without these resources and compassion, I do not know how anyone can face this kind of loss." –  Morgan Stanfill, Baby Bryson's Mom
Many families that receive Kyleigh's Gift resources share with us how important it is that they each find a way to remember their baby in a way that suits them. Some may have a private remembrance with friends and family, others may find comfort in events organized by their faith community, while other families will remember alone in a way unique to them.  It is important to remember that there is no right, or wrong way to remember, and it can change as the years pass, too.
If you are looking for a way to remember, we invite you to join our Wave of Light Candlelight Ceremony on Saturday, October 15th, after the Kyleigh's Gift Run.  The ceremony will be held in the TreeHouse Gardens, located at 2533 Glenn Hendren Dr., Liberty, Missouri. There is no cost to attend.
During last year's Kyleigh's Gift event, messages of remembrance and hope brought many together.  If you would like to make a donation to Kyleigh' s Gift, or would like more information on how to participate, please click here.
The Kyleigh's Gift committee and Liberty Hospital Foundation would like to extend a sincere thank you to Bryson's parents for sharing their families story.