Today's blog is provided by Guest Blogger, Carrie Diallo.
OB Social Worker | Soccer Fan | Mom of Three Humans & One FurBaby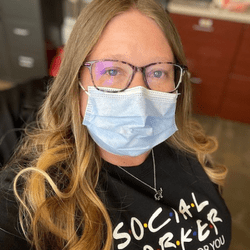 As a birthing center social worker most people think that I spend my days holding babies but I actually spend most of my time speaking with families about their baby supplies, postpartum anxiety and depression, community resources, substance abuse, and ensuring that our patients have a safe discharge plan.  Liberty Hospital families are fortunate to have the support of Kyleigh's Gift to help meet the needs that go above and beyond the physical health aspect that most people think of when they are hospitalized.
Kyleigh's Gift helps families during one of the most exciting times in their lives – having a baby!  Every family that delivers at Liberty Hospital receives a Halo sleep sack with the Kyleigh's Gift logo, as well as education to help promote safe sleep practices.
When a family has a baby that needs to stay in the Special Care Nursery (SCN) for an extended period of time the last thing that the family should have to worry about is how they are going to be able to afford meals while remaining at the hospital to spend as much time with their baby as possible.  This is where Kyleigh's Gift steps in and takes away the burden of meal costs.  Parents are provided three meal vouchers per day ($7 per voucher) that can be used in the Liberty Hospital cafeteria or to order room service.  These vouchers allow family to stay close while their baby is in the SCN and not have the financial burden of how, when, or where their next meal will come from.
Kyleigh's Gift provides eligible families with a bundle of seventy-five size newborn or size one diapers to take home with them at discharge.  Families are then connected with other community resources for continued diaper assistance.
A few years ago we had a family lose their home while at the hospital having their baby and through the generosity of Kyleigh's Gift I was able to the provide the family with a pack n play, infant car seat, diapers, wipes, and various other baby supplies so that the family was able to discharge with all of the baby essentials needed and did not have the ability to replace at the time.
On multiple occasions Kyleigh's Gift has helped provide clothing for babies that did not have something to wear home from the hospital at the time of discharge.
I am also able to utilize Kyleigh's Gift to help families during one of the most devastating times – perinatal loss.  Liberty Hospital has a caring cradle that allows grieving families to maximize the amount of time that they are able to spend with their little one during the bereavement process and gives families the opportunity to say goodbye.  Families that have used the caring cradle are so grateful for the extra time that this allows them to have with their baby.    Leann Weller, Kyleigh's Mom, also hand paints a ceramic angel for each family to take home after experiencing a loss. These special touches are greatly appreciated.  In addition, families receive bereavement resources and books tailored to their family's needs.
In the past 12 months, Kyleigh's Gift has provided bereavement support to fifteen families, diapers to 388 families (that's 29,100 diapers provided in total), and 631 meal vouchers to families with babies in the SCN.  Without the Kyleigh's Gift program, we would not be able to go above and beyond to meet the needs of our families.
Please know as you are collecting diapers this week, your small act of generosity has a huge, lasting impact on the families we help every day.  On behalf of myself, the Mom & Baby staff, Liberty Hospital families and our tiniest patients – thank you, thank you, thank you!