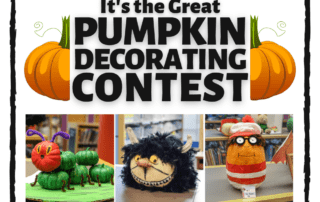 Pumpkin Decorating Registration
Pumpkin Decorating Rules
When: Monday, October 31, 2022
Where: The Café
What: This is a competition to raise money for the Liberty Hospital Foundation TreeHouse!
Decorate your pumpkin any way you would like, limit is 1 pumpkin per team/department. (Carving is not recommended) Get creative!
When completed, bring your Pumpkin to The Café on or before October 31. There will be a jar in front of each pumpkin for votes, starting at 9:00 AM, on Oct 31, all voting concludes at 4:00 PM!
VOTING: Votes will be cast on Oct 31, 2022 using the following:
$.25 = 1 Vote
$1 = 5 Votes
$5 = 30 Votes
$10 = 70 Votes
$20 = 150 Votes
Jars and money will be collected on Monday, Oct 31 at 4:30 PM
Winners will be announced on or before November 2 after all votes have been tallied!
How to ENTER: Complete the form here before you bring to The Cafe: https://libertyhospitalfoundation.org/pumpkin-decorating-contest/
Be sure to upload a photo of your pumpkin and bring down to The Café so we know who to credit!
Prize: The winning team will get official recognition via email and social media, AND free Chicken sandwiches, sponsored by Zaxbys, for all who participated on the winning team.