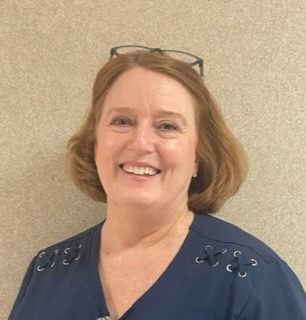 Meet Eileen White, the Clinical Education Supervisor at Liberty Hospital.  In her nearly 30 years here, Eileen has been able to work with thousands of nurses, patients and community members to improve health, wellness and care in our community.  Her work has inspired many young nurse hopefuls choose their career, develop their professional abilities, and better serve patients.  Thank you, Eileen, for supporting one of the Foundation's pillars of education!  Read on to learn more about education in nursing.
Question: Tell us more about what you do at Liberty Hospital
Answer: "I am the supervisor for clinical education here at the hospital.  This is a new role for me in the last 6 months!  I've been in clinical education since 2015, and at the Hospital for 30 years in September!"  Throughout the year, Eileen focuses on the education of roughly 600 nurse staff: the competencies and certifications needed to ensure staff is equipped to be a premier provider for patients.  On top of that, Eileen and her team manages orientation, nurse residency, life support, and house-wide computer based learning.  Eileen's department oversees all of the educators to support the Hospital.  She loves being an educator because she said that "I'll always have half her hands in the clinical side of nursing, I'm one step away from bedside so I get to see everything."
Question:  How has Clinical Education evolved throughout your career?
Answer: "I loved bedside nursing.  It was never my intent to go into leadership.  But as your life progresses, you change and grow.  I was in critical care for 25 years, and then found myself in education."  As health care has changed over the years, Eileen has been passionate in pursuing the education side of nursing because "health care has to change with society's view that nurses have higher expectations on how they care for patients," she continued, "we have to have best practices for everything.  There are certain ways that we have to do things.  We are usually number one when ranked among 'most respected professions' and there's a reason for that."  Eileen takes that pride in nursing to ensure that all new nurses and current staff never forget that public perception and impact the profession has grown into.
Question:  What are some things you tell scholarship recipients or young nurse hopefuls? 
Answer: "Nursing is never stagnant.  You have an open door if you are flexible with any avenue into a niche position: through certifications and working with different units.  It's also a great resume builder!"
Question: How have you seen the Foundation impact the community and your work with us?
Answer: "We promote the Foundation in several ways.  We always talk about scholarships: these are the scholarships we offer, and the Foundation is a great resource.  In nurse residency we have a professional development session where we talk about next steps: what is next?  We talk about everything that we have to offer at Liberty Hospital.  One of the major ways I have been able to give back is sitting on the committee to help approve nursing scholarships.  Always promoting that, always."  Eileen has an open door to anyone seeking help in growing their expertise; any questions are always welcome, and she always makes sure to promote the scholarships to the hundreds of people involved.   Additionally, Eileen champions the TreeHouse: "I remember when we didn't have a hospitality house.  I remember when patients slept in cars and RVs out in the parking lot.  I know the difference it makes and I can't tell you how important it is to what we do.  That's another piece we talk to the residents about.  Part of getting new nurses in is understanding their resources.  Families don't need to sleep in waiting rooms anymore!  We take them on tours to make sure they understand fully the benefits that it has."  Eileen is so excited for the Branching Out campaign to help update and upgrade this community resource.
Question: Being a woman in healthcare, especially in leadership roles, what have you been able to see grow and change as women get more opportunities?
Answer: "Honestly, nursing has been truly female dominated for some time.  The president of the nurse's association at the time I took boards was a woman.  Obviously, it provides mentorship for what nursing is.  We need people like her to help keep a positive spotlight.  Throughout my career, there are more males coming through.  They bring something different than woman nurses which is important, we need them too."  In reflection, she also noted that, "women in leadership I know tend to go above what is required to get respect to gain influence that helps keep healthcare strong."  Eileen noted that nursing has changed and grown in that there are more nurses that take on higher education positions, like advanced practice nurses, that has brought a huge amount of independence to women being able to take care of patients.
Question: Why have you stayed at Liberty Hospital?
Answer: "I watched Liberty Hospital being built from when it was a cow field.  I volunteered here when I was 12 on the fourth floor, which is where my office is now, believe it or not!  I would help put charts together and such.  I've seen it go from a smoking facility back in the day, a small community hospital, and man has it grown.  The reason people stay and the reason people come is that they love the care that they get here.  Vice versa, the nurses and staff love the patients.  That connection makes a difference, and that's what makes Liberty Hospital special."
Thank you for all that you do for the Hospital and Liberty community, Eileen!